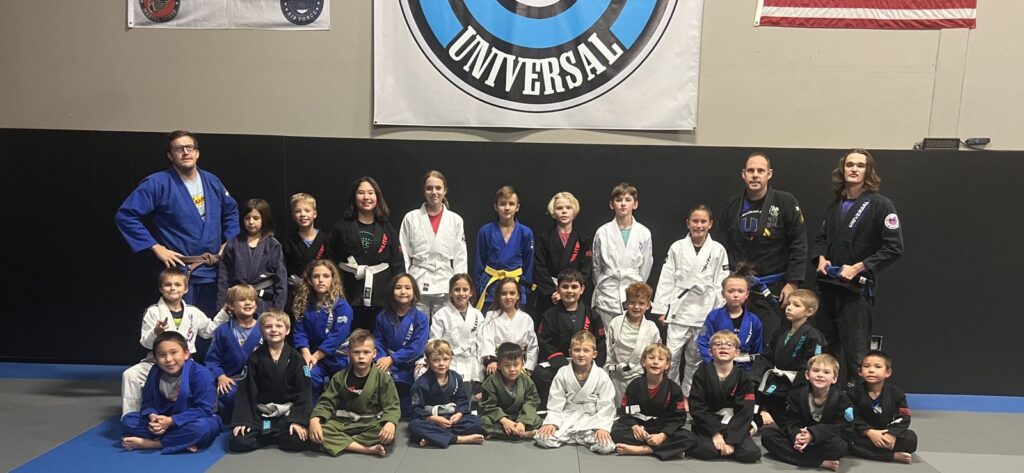 Class Overview
Bring your kids to our kid's BJJ class! Brazilian Jiu-jitsu is an amazing way for kids to build confidence and character. At Universal Kioto, we strive to provide a safe, friendly, and welcoming environment for your child. Your child will develop their coordination and agility, learn how to control, submit, and escape from larger and stronger opponents, and build the confidence and self-discipline that comes from training the world's most effective martial art.
Classes
Lil' Ninjas (Potty trained-7 years old)
Tuesday/Thursday — 4:00PM-4:45PM
Our Lil' Ninjas classes are 45 minutes of games and physical activity designed to will teach your child movement, coordination, and the fundamentals of jiu-jitsu positions which will begin them on their jiu-jitsu career and prepare them for the Kids' Class.
Kids' Class (7-9 years old)
Tuesday/Thursday — Kids 5:00 PM-6:00PM (gi), Wednesday — 5:00 PM-6:00 PM (striking & nogi)
Teens' Class (10-15 year old)
Tuesday/Thursday – Teens 6:00 PM to 7:00 PM
All students will learn movement and BJJ fundamentals , principles of fitness and self-defense, and work to develop self-discipline and character. Classes are one hour long, and include warm-ups and calisthenics, technique instruction, and live sparring ("rolling"). Older students will receive additional intermediate technique instruction. Many of our students this age compete in local competitions!
We are also offering Kids striking classes Wednesday at 5:00-6:00PM!
What should I know?
Come prepared with a legal guardian to sign a liability waiver and be introduced to your child's instructors. We'll provide your child with a loaner gi and belt until you can purchase your own. Ask their instructors about gi sizing
Your child should wear a comfortable t-shirt, gym shorts, and sandals or flip-flops. No shoes are permitted on the mats, but shoes are required when off the mats. If your child has longer hair, hair ties or braids are suggested.
New students will spend their first few classes learning fundamentals, but after they've gotten the hang of the basics, they'll be permitted to engage in live sparring with other students. We highly recommend that your child have a mouth guard and water!
If your child continues training with us after their introductory period, they will need their own gi. You can order one through us, or buy one on your own (check Amazon!)
Class Details
Lil Ninjas: Tue/Thu 4:00-5:00 PM
Kids: Tue/Thu 5:00-6:00 PM Teens: Tue/Thu 6:00-7:00 PM
7931 E Pecos Rd #110, Mesa, AZ 85121
Class Location