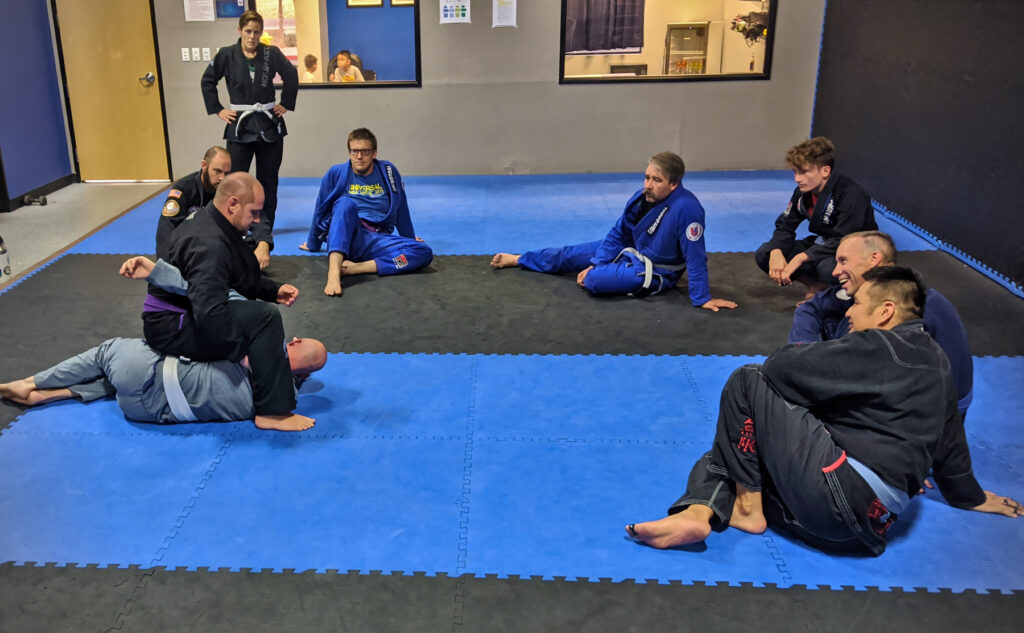 Class Overview
Come learn the "gentle art" of Brazilian jiu-jitsu!
Our classes are open to all ages 16 and up.
What should I know?
Come prepared to sign a liability waiver and be introduced to your instructors. We'll provide you with a loaner gi and belt.
You should wear a comfortable t-shirt, gym shorts, and sandals or flip-flops. No shoes are permitted on the mats, but shoes are required when off the mats. For the safety of you and your training partners, no jewelry is permitted. If you have longer hair, hair ties or braids are suggested.
A water bottle is necessary! We'll be working hard and you should remain well-hydrated.
New students will spend their first few classes learning fundamentals, but after they've gotten the hang of the basics, they'll be permitted to engage in live sparring with other students. We highly recommend that you have a properly-fitted mouthguard.
If you continue training with us after your introductory period, you will need your own gi. You can order one through us, or buy one on your own (check Amazon!)
Please note that you should purchase a BJJ gi, not a Karate or Tae Kwon Do gi, as they are generally not sturdy enough to withstand grappling.
Class Details
Monday/Tue/Wed/Thurs
Monday/ Wednesday 6:00-7:00 PM Tuesday/Thursday 7:00-8:30 PM
7931 E Pecos Rd #110, Mesa, AZ 85121
Class Location